The Invention of the Chi Generator® by Karl Hans Welz
led to a Revolution of Life Energy Technologies for Body and Mind
Hyper Space Communications and Technologies International, Atlanta, USA- 770 783 0563
BEC - Bio Energy Corporation - Budapest, Hungary - +36 204 688 180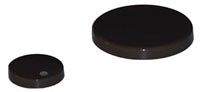 4. RAOPTC Power Transfer Couple for the Aqua Optimizer devices
The receiving part of the transfer couple (orgonite) is large enough for a glass of water, a drink or for food. Like the transfer of the TC 99, PBT 2400 or PBTBH 2400, you can use this device to energize yourself at a distance.
Copyright © 2005 by Karl Hans Welz. No copying of any part, idea, or concept presented on this web site
is allowed except when permitted in writing by the author.